As I'm sure you've heard, the Oscar nominations are here. Yes. Award ceremony season is upon us, my friends. Time to dust off your tiaras, roll out the red carpets and put the finishing touches on those acceptance speeches!
While not pretending to be as discerning a connoisseur of cinema as some of my blogging cohorts, here are my personal pics (and comments) regarding this year's 79th annual Oscar nominations as announced today, January 23 in Beverly Hills, CA by the Academy of Motion Picture Arts and Sciences:
*****************

Best Picture:

Babel

This movie will not be part of the Scarlett movie library. I would never watch this movie again. However, it was utterly original, artistic and powerful.
Actor: Leonardo DiCaprio, Blood Diamond; (don't make me laugh! Did you HEAR butchering of the South African accent!?) My vote goes to Forest Whitaker, The Last King of Scotland.
Actress: Penelope Cruz, Volver: I actually heard from my brother that in her native language, Ms. Cruz is surprisingly talented. However, my vote goes to Helen Mirren, The Queen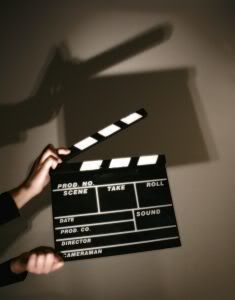 Supporting Actor: Mark Wahlberg!? Are you kidding me!? What 12 year old did they put on the academy that nominated "Marky" Mark Whalberg!? I'm going to go with Eddie Murphy

on this one for

Dreamgirls
Supporting Actress: Adriana Barraza, Babel; No contest. Hands down. Did you know that while shooting the scene in the desert that kept cutting to her feet that she was the one holding the camera? She wouldn't come out of the sun and barely drank any water during the shooting of this scene because she wanted it to be real. Utterly amazing.

Directing: I'm tempted to nominate Alejandro Gonzalez Inarritu for Babel once again. However, the direction and realism of United 93 and its complete uniqueness as a film not to mention the subject matter…I'm going with Paul Greengrass
Foreign Language Film: After the Wedding (Denmark). This is a very intense and heart breaking film that explores human nature and it give you a lot to cry and think about, but the ending is hopeful and beautiful and you leave the movie feeling good and knowing you've just seen something brilliant.
Original Score:

The Queen

, as a musician and orchestration student, let me just say that

Alexandre Desplat

is a genius.
Original Song:

Our Town

from

Cars

. Sorry, Beyonce…gotta give it up for James Taylor.
Costume:

Marie Antoinette

– the only really good part of this movie
Documentary Feature*: Jesus Camp – disturbing, scary movie about a boot camp for the young soldiers of Christ. Be afraid, be very afraid.









*OH – can I also throw in that I threw up a little to hear that An Inconvenient Truth was even NOMINATED, even showed up on the RADAR? I think I threw up a little when I saw that listing. Apparently being a self-diluted former VP entitles you to an Oscar. Who knew